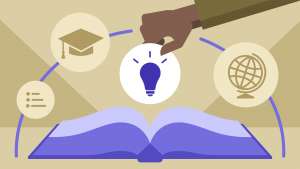 At GNPS curriculum plays a very important role as we at GNPS believe that learning is not just about teaching, books and lessons but much more than that.
At GNPS the emphasis is more on the overall development of the child, as we understand that schooling is the time in the life of every child, which influences their future.
To do this, creation of world – class infrastructure facilities and a favorable atmosphere is a sine qua non for any child to learn not just academics but lessons of life, character, ethics and values. At GNPS we impart all these qualities in the children so that they emerge as responsible individuals.
GNPS has a curriculum that is integrated. The curriculum is concept oriented rather than exam oriented. At GNPS the curriculum is designed keeping in view the overall development of a child. The classroom is the nerve center of the activities that are undertaken in shaping and grooming the leaders of tomorrow. The integrated curriculum not only concentrates on the academics but also on the qualitative development of every individual child.
Our strength lies in our ability to maintain the completeness of our programs, offering unique and important options to each and every person and providing a way to evaluate each student's learning to ensure that we all continue to grow and we remain completely accountable to our community.