1st HOUSE

BHAI GURDAS HOUSE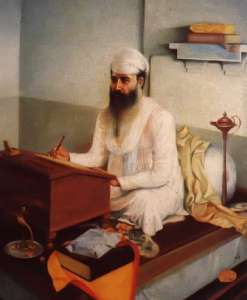 Bhai Gurdas was born in 1551 in Goindwal a small village in the Punjab. He is well known as "Ved Viyas' of Sikhism in the Sikh history. He was a great schlor, historian and preacher. He was original scribe of the Guru Granth Sahib and a companion of the four Sikh Gurus. He completed the "Adi Garanth" in 1604 as dictated by Guru Arjan Dev ji. It took him nearly 19 yrear to complete this task. His other works in Punjabi are collectively called "Varan Bhai Gurdas". The Akal Takhat was revealed by Guru Hargobind Sahib on June 1606. When Guru Hargobind ji remained in Gwalior Fort Prison. He asked Baba Budha to perform the service of Darbar Sahib (Harmandar Sahib) and Bhai Gurdas to care of Akal Takhat. It was the appointment of Bhai Gurdas as the first Jathedar of Akal Takhat. He was died on 25th Augu-st 1636 at Goindwal
2nd HOUSE
BHAI GHANAIYA JI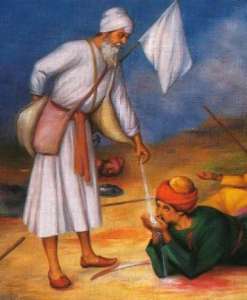 Bhai Ghanaiya was born in a Dhamman Khatri family of Sodhara near Wazirabad in Sialkot District 110 (1648CE). During his youth he spent a lot of time in the company of Nanua Bairagi. Who was also a disciple and comrade of last three Sikh Gurus. But his quest ended as he met Guru Teg Bahadur. Bhai Ghanaiya was often seen carrying a 'Mashal (to serve water to anyone who was thirsty. He took upon the task of quenching the thirst of the wounded soldiers in the battle of Ananpur Sahib in 1704. He did sewa with affection without discrimination between the Gurds Sikh soldiers and the Mughals armies' soldiers. His act of compassion stress up stern criticism amongst his fellow Sikhs. They complained that Bhai Ghanaiya was using water to wounded soldiers for the enemy camp.! Guru Gobind Singh ji summoned Bhai Ghanaiya. But with the answer of Bhai Ghanaiya, Guru ji was pleased that he had understood the deep message of Gurbani correctly .Guru also gave Bhai Ghanaiya ji medical balm and said from now on you should also put this balm on the wounds of all who need it '.'Bhai Ghanaiya died in 1718 CE after retiring to sadhara .His example as a forerunner of the present day Red Cross ,is a tribute to the universal message of compassion and kindness to all . Sikhism produced Bhai Ghanaiya, more than hundred years before the inception of the Red Cross.
3rd HOUSE BHAI NAND LAL JI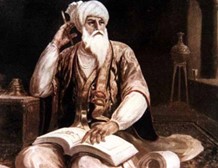 Bhai Nand Lal   was a poet famous in the Sikh tradition and a favourite disciple of Guru Gobind Singh Ji. His poetry, all in Persian except for Joti Bikas, which is in Punjabi, forms part of the approved Sikh canon and can be recited along with scriptural verses at Sikh religious divans. Bhai Nand Lal adopted the pen-name of "Goya," though at places, he has also subscribed himself as "Lal," the word being the last part of his name. He was a scholar, learned in the traditional disciplines of the time, and his image in Sikh history is that of a man who loved and venerated Guru Gobind Singh Ji and has been in turn loved and venerated by generations of Sikhs.
Nand Lal's name as the favourite disciple of Guru Gobind Singh has passed into the Sikh tradition and his devotion is commended as an ideal to be followed. A Rahitnama (code of conduct) for Sikhs is ascribed to him, besides another called Tankhahnama, or a manual of penalties for infringement of the religious discipline. Doubt has been expressed as to whether these two are of Nand Lal's composition. Both are in the usual contemporary Braj idiom in Sikh religious literature. In each Nand Lal is represented as being the seeker eliciting information from the Guru as to the right doctrine and the right conduct for a Sikh.
4th HOUSE

BHAI MARDANA JI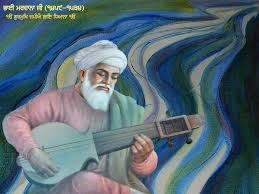 Bhai Mardana Ji (1459-1534), Guru Nanak Dev Ji's longtime Muslim companion throughout his extensive journeys across the country and abroad, was born as the son of a Mirasi couple, Badra and Lakkho, of Talvandi Rai Bhoe, now Nankana Sahib, in the Sheikhupura district of Pakistan. The Mirasan were a caste of hereditary minstrels and genealogists. Bhai Sahib was ten years older than Guru Ji and was his childhood friend and companion.
Guru Nanak Dev Ji and Bhai Mardana were both born and raised in the same village. The Miharban Janam Sakhi describes the latter, who was ten years senior in age, as the Guru's companion since his childhood days and as one who sang to him songs from the Bhagats (Kabir Ji, Trilochan Ji, Ravidas Ji, Dhanna Ji, and Bern Ji). According to Ratan Singh Bhangu, Prachin Panth Prakash, Guru Nanak Dev Ji, as a small boy, gave Bhai Mardana a string instrument improvised from reeds to play on while he sang the hymns.
As Guru Nanak was employed to take charge of the granaries and stores of the Nawab of Sultanpur Lodhi, the stories of his generosity and hospitality spread far and wide. Mardana, already a married man and father of two sons and a daughter, wanted to visit Sultanpur and seek his bounty. Meanwhile, he was charged by Guru Nanak's father Mehta Kalu, to go to Sultanpur and bring news of the welfare of his son. Mardana went to Sultanpur, never to part company with Guru Nanak again. His occupation was playing the rabab or rebeck as Guru Nanak recited God's glory.
When Guru Nanak prepared to go forth into the world to preach his message, he invited Mardana to accompany him. Mardana hesitated, for he did not wish to leave his family until his daughter had been married off and for this he did not have sufficient means. One of Guru Nanak's disciples, Bhai Bhagirath, bought the needed provisions and Mardana was able to give away his daughter in marriage. He was then ready to accompany Guru Nanak on his travels.